mind maps

fear appeal, n.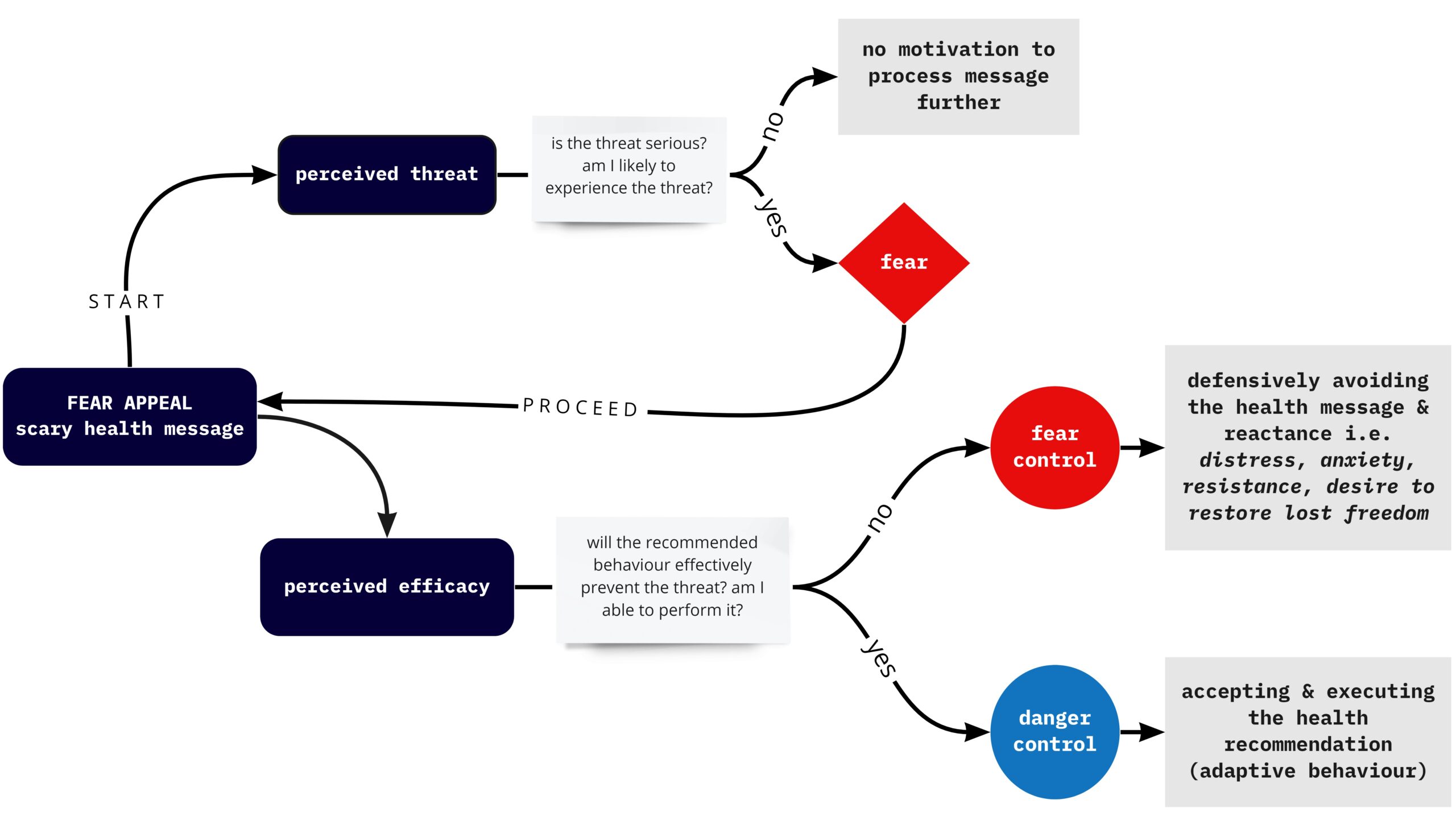 © J.F. created based on the Extended Parallel Process Model (EPPM)
2

    how to persuade people to take the Covid vaccine ?
Are fear appeals such as explicit pictures of hospital patients, war metaphors and death toll projections effective?
Evidence from health psychology and communication is inconclusive. 
Fear appeals effectively draw attention to a threat.
But, scaring people may backlash and result in defensive behaviour, avoidance, reactance and increased risk behaviour for some.
Promoting efficacy (i.e. the belief that protective behaviour works and that I'm able to carry it out) is shown to be more effective than emphasizing a threat – for example in an experimental study of vaccination against Ebola.
---
References
Ort, A., & Fahr, A. (2018). Using efficacy cues in persuasive health communication is more effective than employing threats–An experimental study of a vaccination intervention against Ebola. British journal of health psychology, 23(3), 665-684.
Ruiter, R. A., Abraham, C., & Kok, G. (2001). Scary warnings and rational precautions: A review of the psychology of fear appeals. Psychology and health, 16(6), 613-630.
Ruiter, R. A., Kessels, L. T., Peters, G. J. Y., & Kok, G. (2014). Sixty years of fear appeal research: Current state of the evidence. International journal of psychology, 49(2), 63-70.
Stolow, J. A., Moses, L. M., Lederer, A. M., & Carter, R. (2020). How Fear Appeal Approaches in COVID-19 Health Communication May Be Harming the Global Community. Health Education & Behavior, 1090198120935073.
Tannenbaum, M. B., Hepler, J., Zimmerman, R. S., Saul, L., Jacobs, S., Wilson, K., & Albarracín, D. (2015). Appealing to fear: A meta-analysis of fear appeal effectiveness and theories. Psychological bulletin, 141(6), 1178.
Witte, K. (1992). Putting the fear back into fear appeals: The extended parallel process model. Communications Monographs, 59(4), 329-349.